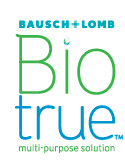 I'd like to bring to your attention
Bausch + Lomb's Biotrue.
Biotrue is a multi-purpose contact lens solution. Biotrue is inspired by the biology of your eyes™. It works with your eyes natural lubricants to work like natural tears. This way your eyes will be protected and not dry out with contacts.
"Biotrue™ solution is formulated to work like the eyes:

Matches the pH of healthy tears.
Utilizes the eye's natural lubricant to deliver long lasting hydration.
Helps to maintain the eye's healthy tear proteins.

Biotrue solution conditions, cleans, removes protein, disinfects, rinses and stores soft contact lenses including silicone hydrogel contact lenses."
Biotrue sent me a sample of BioTrue and a very cool reusable tote bag. To celebrate their latest innovation, Biotrue, Bausch + Lomb will be giving away 300 reusable tote bags a day beginning Sunday, February 27th. To enter, just visit
their website here
to play the instant win game. Not a winner? No problem, just come back the next day to try your luck again! The game will be live for 30 days, meaning over 9,000 lucky Biotrue fans will be winners before Sunday, March 27th.
Buy It!
Go on over to
local retailer
to buy it.
When you go to buy yours, you can get their 10 oz or larger bottle with this
$1.00 off coupon
. That's a great coupon! Take advantage of it while you can.
Disclaimer: I was provided a sample of this product for review. No other compensation was provided. The opinions here are my own.