This is a great place to shop for those special gifts for yourself or a friend. Especially if you're shopping for a bachelorette gift or a gag gift, Eden Fantasys has it. I have a couple friends that are very open and would love to receive an adult gift as a present. Maybe you have the same kind of friendships, maybe not. If you do, or want to shop for yourself, you'll have a field day shopping through their site. If you're more conservative or shopping for a friend who is, there are items such as aromatherapy candles and massage oils that you can purchase for them.
I just got myself a dress and panty/bra set through EdenFantasys and because I "like" them on facebook, got a vibe for free. I was thrilled, because that's something that I hadn't planned on buying for myself and now I have an awesome new
sex toy
for Free! I'm a big fan of free of you haven't guessed already. There are programs to get yourself involved in to earn free points toward gift cards and if you're a blogger, you can get involved in blogging for gift cards like I am doing now. I really am a fan of Eden Fantasys, I visit their site almost daily to check out conversations and discussions there. (Not to mention shopping for my next item that I want to buy)
That will be my topic for next week's post….The Discussion section of their site.
Till then…. Have fun and laugh off the drama!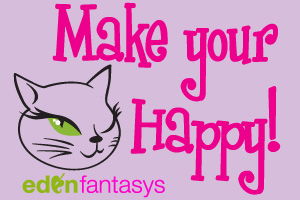 EdenFantasys is providing me with a gift card in exchange for this post. No other compensation was provided. These are absolutely my opinions.