*EdenFantasys posts contain adult content so don't open around little ones*
I like to not only shop at EdenFantasys, but I enjoy reading articles, discussions and getting involved in their online community.
I've mentioned a couple of months ago, but I'd like to mention again the EdenPoints program. You can earn points by doing searches, rating products, commenting on products, becoming friends with other reviewers, etc.
I was really into it and went every day and have been such a slacker lately. I am back at it again, earning me some more points. What do you do with EdenPoints, you may ask..... You can redeem them for EdenFantasys gift cards. I have redeemed mine in a couple of times and went shopping for
sexy lingerie
and other things.
Bottom line is they are paying you to be involved in their site and taking an interest in their products.
When I was diligent in getting points everyday, I earned over a hundred points each day. For every 100 points is a dollar worth of EdenFantasys money. You could earn yourself EdenFantasys money easily doing it and express your opinions on products and get involved in discussions at the same time.
Just another reason why I continue to love and write about them. I use their products and enjoy being a part of their community. Don't forget you can get 2 free gifts with every purchase. One by being a friend on facebook and the other by clicking on Free gift at the top of the page. Orders over $59 get free shipping.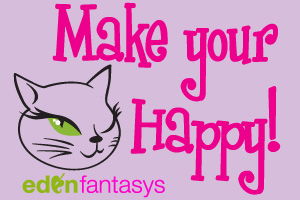 EdenFantasys is providing me with a gift card in exchange for this post. No other compensation was provided. These are absolutely my opinions.