*EdenFantasys posts contain adult content so don't open around little ones*
I just got back from vacation and haven't even touched my blog, not to mention neglecting my EdenPoints. Even when I'm not blogging about EdenFantasys, I do go onto their site daily to earn myself EdenPoints. You do basic things, such as checking out their products, doing searches, participating in the forum to earn points that you can trade into gift cards. At this point, I get about 3 dollars worth a day and try to keep up with it. (While on vacation I didn't get a chance to get any, but now I am back. Yay)
A few weeks back, I did place a big purchase and got many goodies. Now I'm keeping my eye out for what I want to buy next. They've added so many things and always have specials and deals you can take advantage of. Even though when you first go to their site, you see
sex toys
, there's much more to their site. It is an adult community. You can purchase clothing, beauty products, gag gifts and much more. I love going into the forums and participating in polls and discussions.
If this is the first you ware hearing of EdenFantasys, I am happy to introduce you. I encourage you to click the links on the side to browse their selections and click on the Promotions tab along the top to see the current deals.
Here are a few things that caught my eye while browsing today:
Victorian Dreams Chemise
Weekender Kit - On Sale right now
Ono massage oil
I encourage you to read the reviews on the products. They offer insight from people who have bought and tried them out themselves. They are very honest and I love the personality in the writing of some of the reviewers.
Don't forget your free items and the free shipping for orders over $35!!!.
Save 20% site-wide with coupon code
PLAY20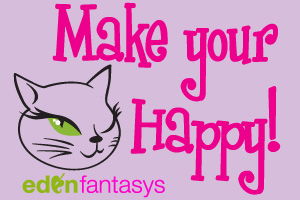 EdenFantasys is providing me with a gift card in exchange for this post. No other compensation was provided. These are absolutely my opinions.