The winner has been chosen and it's
Theresa
. Congrats!
The email has been sent. The winner has until 12-16-10 to answer back or another winner will be chosen.
Everyone loves brownies! I know I do. I got the fantastic opportunity to review
Fairytale Brownies.
A little about the company and product (straight from their website):
Premium, all-natural ingredients. A luscious blend of refined flavors. The perfect gift for friends, colleagues and loved ones. Handcrafted Fairytale Brownies will delight them with every exquisite bite. Fine cake flour and rich, Callebaut Belgian chocolate are blended with farm-fresh eggs and pure creamery butter to create a sublime sensation. Fairytale Brownies are certified kosher and free from trans fats, preservatives and artificial colors. So go ahead. Indulge. Taste pure enchantment.
Eileen Spitalny & David Kravetz
Co-Founders & Childhood Friends. Baking Magic Since 1992.
I was sent the
Fairytale dozen
which contains each one of the brownies that they make. Here's the list (in bullets just to really make you want to try each one. I'm terrible, I know!)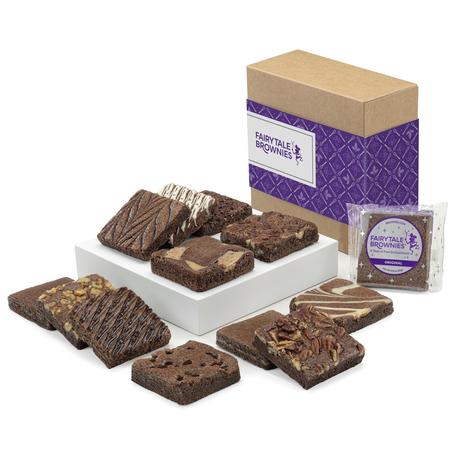 Original

Caramel

Chocolate Chip

Cream Cheese

Espresso Nib

Mint Chocolate

Peanut Butter

Pecan

Raspberry Swirl

Toffee Crunch

Walnut

White Chocolate
Wow! I have to say that they are amazing! I can't even decide which one is my favorite but the cream cheese and mint chocolate are up there on the list. Luckily, I ate them slowly, so was able to make them last a little longer and could enjoy them longer. Somehow I gathered the will power to have a bite here and there instead of scarfing them all down as soon as I opened the box. I have never in my life had brownies as good as these and I'm not exaggerating. They arrive individually packaged in a neatly wrapped box. The packaging is so classy and made me feel special as I was opening it, like it was a present just for me.
Admittedly, I am a cheap and typically wouldn't spend $30 on a dozen brownies but after trying these, I absolutely would buy these again, maybe to reward myself or for a special occasion. I was just telling my husband that this would be a great gift for that person who has everything and you have no idea what to get them or for a boss that you have no idea what their interests are.
Christmas is coming up and these would make a fantastic gift. I know I'd be thrilled if someone got me some for Christmas, Hint Hint, j/k. :)
Check out their website:
http://www.brownies.com
and social networks
Now for the good part! Wanna win a
Fairytale Dozen
(Retail $33.95) just like I received?
Just Enter the form below:
Contest will end 12-13-10 23:59 ET. Winners will have 2 days to respond, unless another winner will be chosen.
Fairytale Brownies did provide me with this product for review purposes and no other compensation was provided. The opinions here are my own. Thank you
!