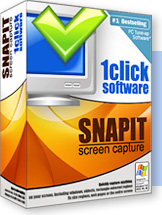 SnapIt Screen Capture
This is your basic screen cap program. This is for those of you that hate Vista like me and are using Windows XP. Windows XP doesn't come with any built-in screen cap software like Vista does and this program would come in handy to snap a pic of something specific on your screen. My hubby uses Vista and takes "pictures" of stuff all the time with his screen cap that is built in. Now I can too.
Check it out:
http://www.digeus.com/products/snapit/snapit_screen_capture_3_5.html
Disclosure: Digeus is providing me a copy of their software for this post. The opinions are absolutely my own!